Home
Accommodation
Alternative
Connection
Hunting
Prices
Photogallery
Contact
Discover the big adventure in the North of Sweden. Where the chances of an unforgettable hunting-experience is great. Here you can hunt capercaillie, black grouse, hare, beaver (20000 hectare of hunting-ground) and elk/moose (5500 hectare of hunting-ground). You live comfortably in one of our two lodges, the meals we serve are prepared on locally and ecologically produced primary products.
We enjoy making your hunting-experience exceptional by offering you the knowledge of our licensed host.
- My heart was beating like a tilt hammer when the baying got closer to my stand. (Satisfied guesthunter)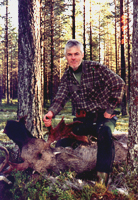 The experience of the silence of nature far from the daily stress in an exciting
hunt, provides you with a better ability to achieve your daily tasks.